BNR 34 to be the last GT-R of the skyline
Aero dynamics is boiled down and the rear diffuser is also a car using the world's first mass-produced car made of carbon.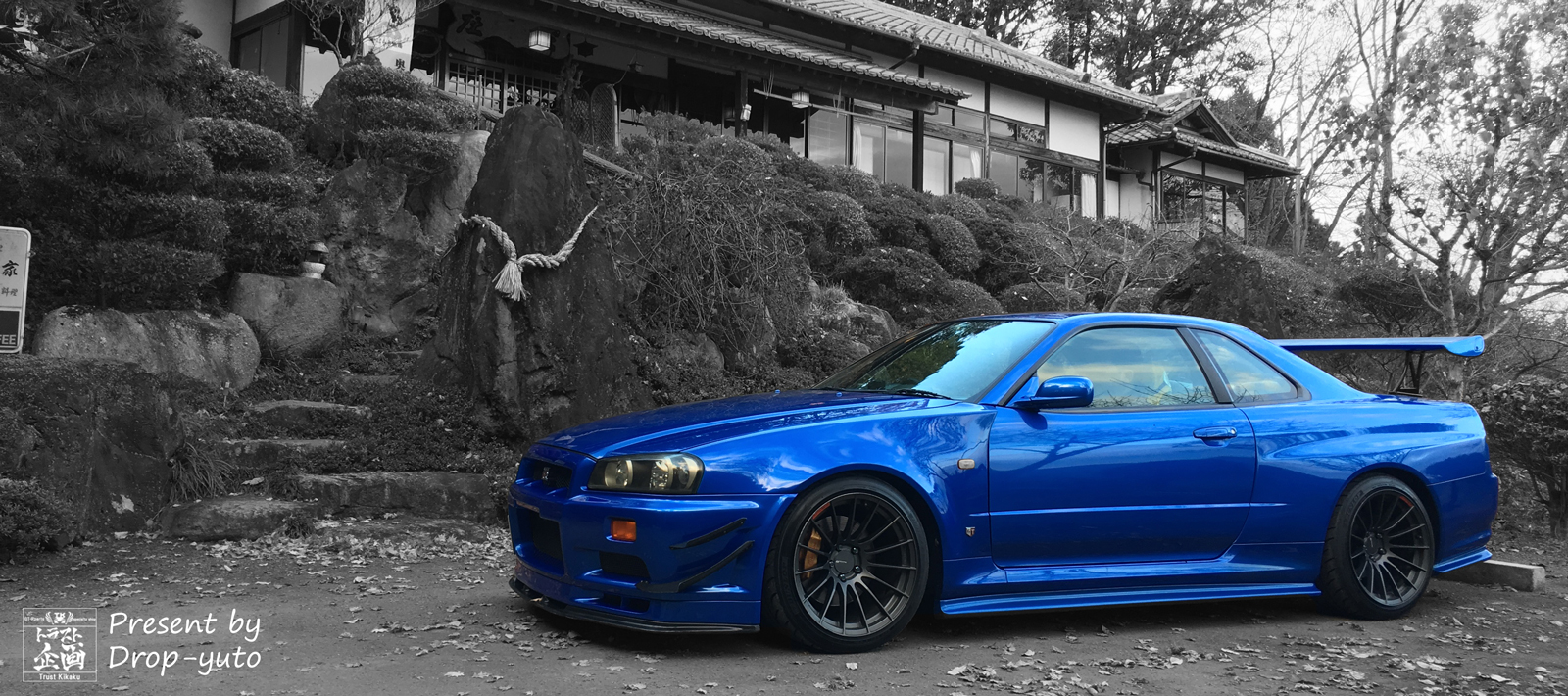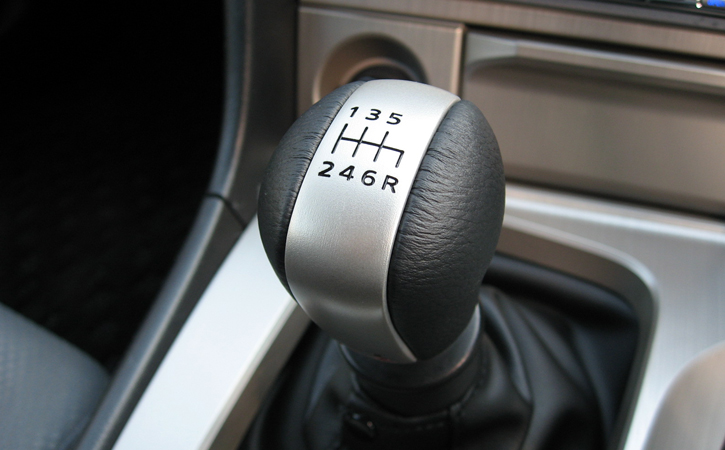 The Ultimate Driving Pleasure
Second Generation Last GT-R BNR 32
N 1 based on V spec and V spec, and model further conscious of racing were prepared.
The world's top-level body rigidity, which was enhanced in all vehicles in common, is the two-door coupe of the base vehicle R34
It already has the same body stiffness as R33GT-R of the previous generation.
The body shaped on it has a size down of 75 mm in total length and 55 mm in wheel base compared with R 33.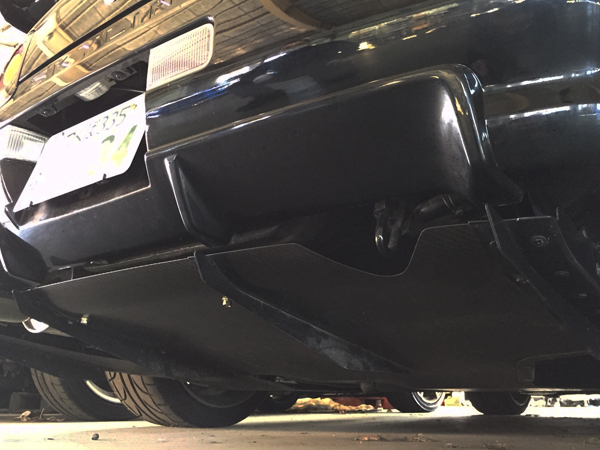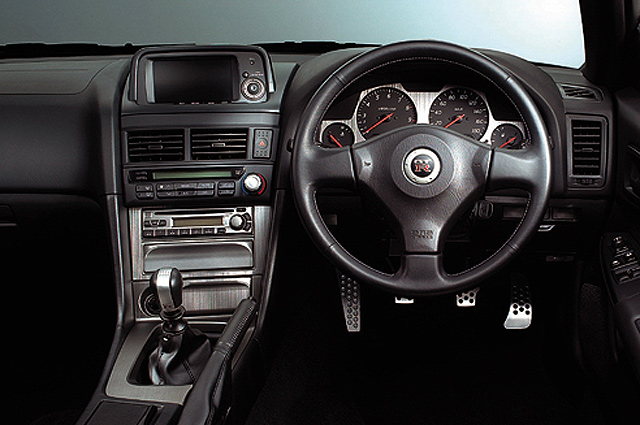 In the center console, "multifunction display" is adopted instead of triple meter so that various information by digital display is seen.
Long-awaited six speed
Production vehicles Compact size while maintaining the world's top-class body rigidity exceeding the world's first carbon diffuser and active LSD, R33, the torque of the RB 26 engine is further improved by reviewing the camshaft.And with the long-awaited Get-Tug 6-speed mission.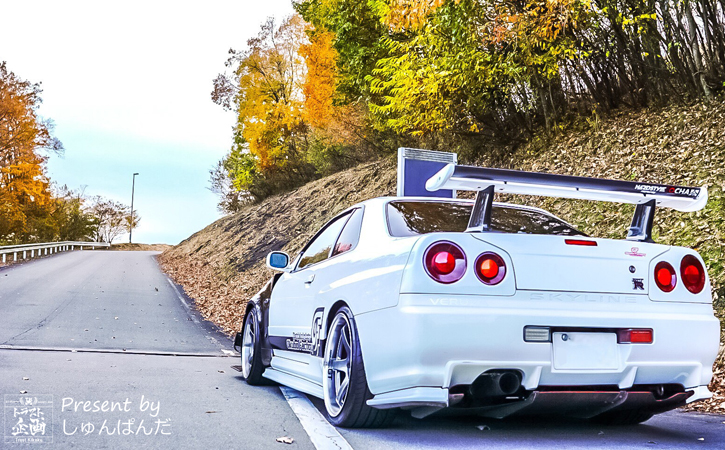 6 speed mission

The six-speed overseas sports cars advanced, the image of Lacey = 6 speed increased The 6th speed which was long-awaited from fans was realized.
The installed 6-speed mission made by Getlag is a cross ratio obtained by dividing 1st to 4th gear into 1st to 5th speed.Like the R33 GT-R brake, Brembo brake system is adopted for all the cars.
Adoption of carbon parts
The late minor change of R34, the topic that became the topic in V spec Ⅱ adopted carbon parts Side carbon diffuser and front engine diffuser adopted carbon (adoption of carbon by rear diffuser is the world's first mass-production car )
The adoption of carbon has become a hot topic only to the problem which GT-R had so far to say that the front is heavy.
The adopted carbon uses dry carbon rather than wet, it is also stronger and lighter weight.
In addition, the intake opened in the front bonnet is said to be the NACA duct, it is thought to be the shape with the lowest air resistance devised by the American Aeronautics and Space Administration (now NASA), and it is cooling the turbine.By the way, there is NACA duct in V spec, there is no NACA duct in M spec Bonnet can tell to a certain extent the distinction between them.
History
Previous term
January 8, 1997     Sales start
Late stage
October 30, 2000     Minor change
May 8, 2001     M specs released
February 26, 2002     Limited car V spec. Ⅱ null / M specknull released
August 2002     end of production

Production volume
Standard car     3962 units
---
V spec & M spec     7338 units
---
N1 base specification     45 units
---
BNR34
Total length (mm)
4600
Full width (mm)
1785
Overall height (mm)
1360
Indoor dimensions length (mm)
1780
Indoor dimension width (mm)
1400
Indoor dimensions High (mm)
1105
Wheelbase (mm)
2665
Tread, front (mm)
1480
Tread, back (mm)
1490
Minimum ground clearance (mm)
Previous term model 140


Late model 145




Early V spec, Late V spec II 130

Vehicle Weight (kg)
Early, late model 1540


V – spec, late VSpec II  1560

Gross vehicle weight (kg)
Early and late model 1760


Early V spec, Late V spec II 1780

Riding capacity
4
Minimum turning radius (m)
5.6
Drive system

Early, middle, late model,

Electronically controlled torque split 4 WD Atesa E-TS


Previous term V-spec, Medium term V-spec

Active

LSD

Integrated control4WD ATTESA E-TS PRO

Steering gear type

Rack-and-pinion

Yaw rate feedback

Electron

SUPER HICAS
Suspension, front
Independent suspension Multi link type
Suspension, rear
Independent suspension Multi link type
Brake, front
Ventilated disc Opposed type 4 Piston
Brake, rear
Ventilated disc Opposed type 2 Piston
tire size
245/40ZR18
Fuel tank capacity
65
Gear ratio 1st gear
3.827
Gear ratio 2nd gear
2.360
Gear ratio 3rd gear
1.685
Gear ratio 4th gear
1.312
Gear ratio 5 gear
1.000
Gear ratio 6 gear
0.793
Gear ratio back gear
3.280
Final reduction ratio
3.545