Vehicle No.
First Registration
 Vehicle
Grade
 Shift Type
Displacement
Body Color
Model
Vehicle Price
(Without Tax)
Score

5182

1992/2M

SKYLINE
GT-R

F5
2,600

GUN METALLIC

E-BNR32

JPY
2,700,000

R
Price for our used cars may vary according to the changes in market price.
To see all the PDF files. (2 pages in total)
★Click below PDF image to view all 2 pages.★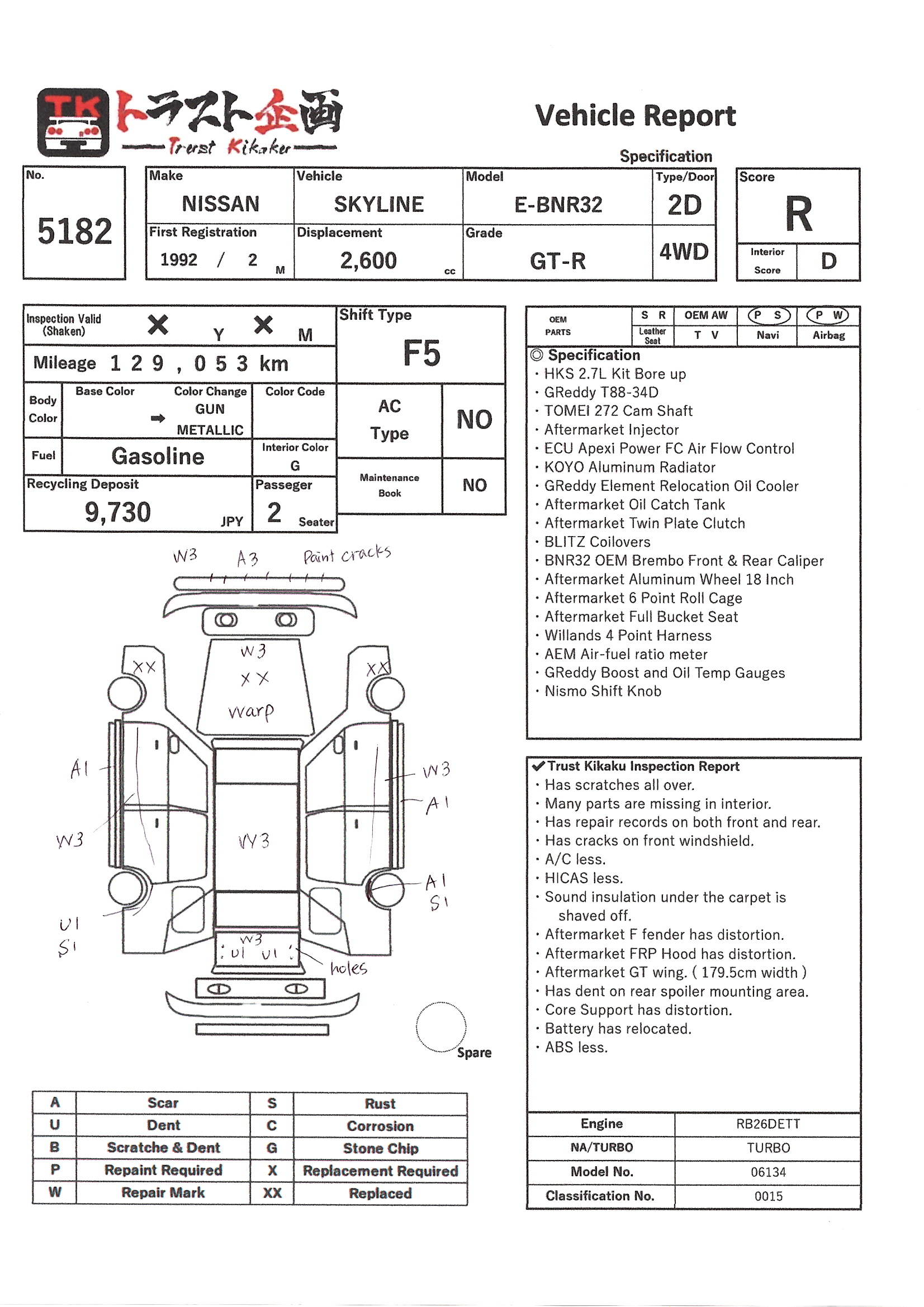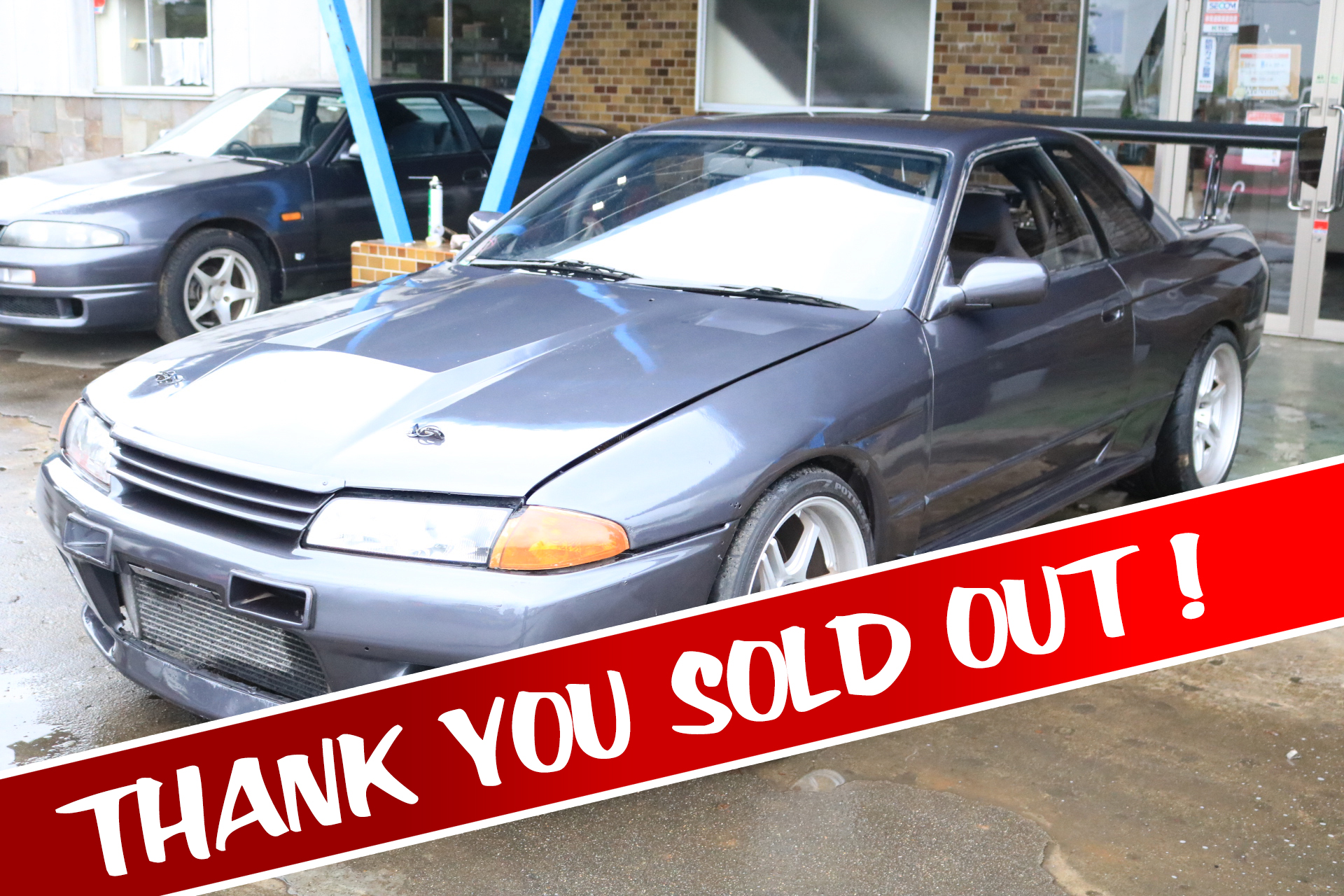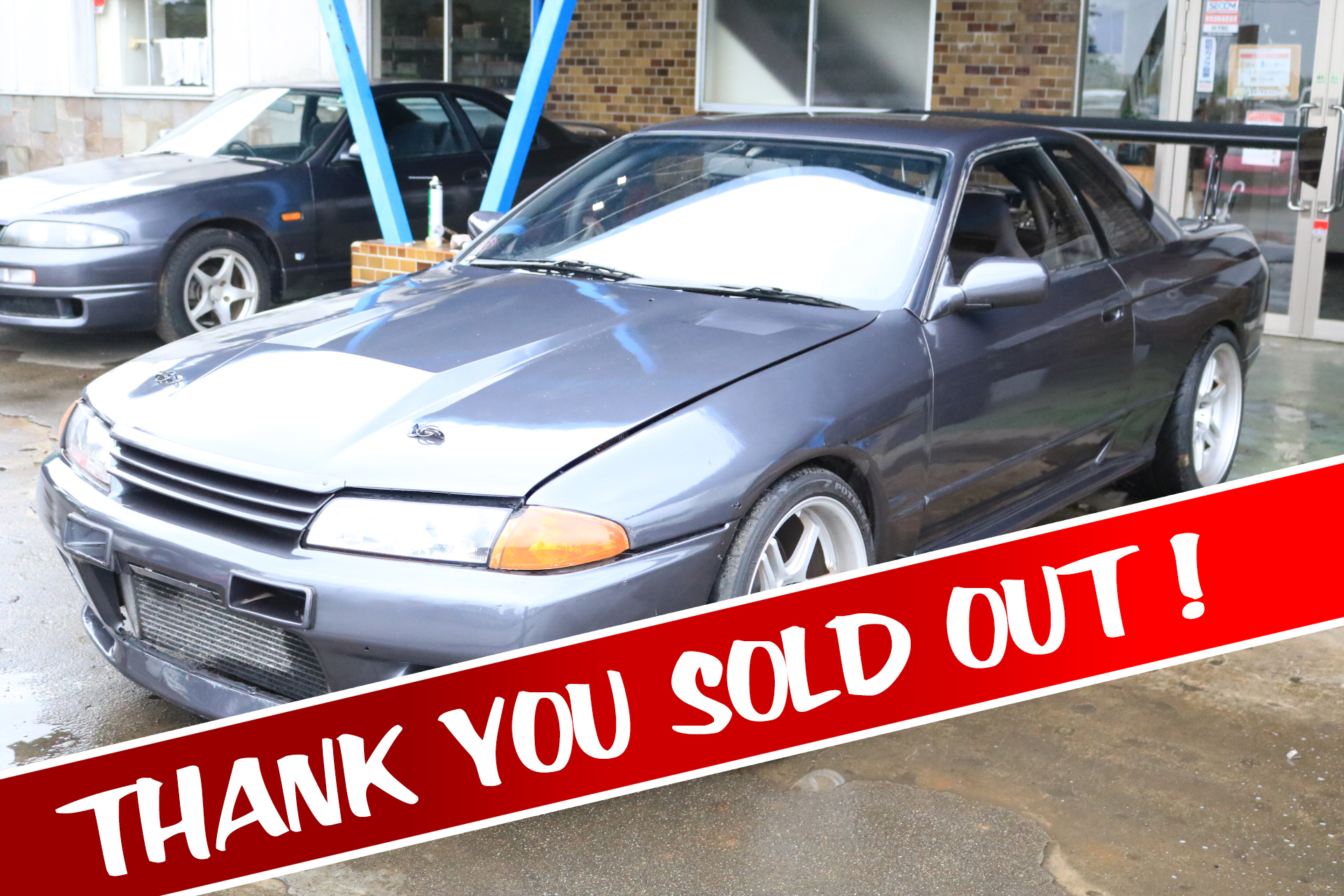 ↓Click the image to enlarge.
Please check below before contacting us.
For Dealers
For individual customers
Car Storage Service & Options
For Dealers
Our used car price
Our price on this page doesn't include "expenses" like ground transporting fee.
We charge you incurred additional costs separetely.
We charge you recycling fee separately.
Our used cars on sale are all sold as-is.
Deposit : 25% of the car price
Once you pick a car to purchase, please make a payment for deposit (25% of the car price ) within a week.
We put the car aside ( reserve ) after we confirm your payment of deposit.
Please note that if a transaction with another customer is completed before we confirm your deposit, transaction will be canceled automatically.
After making payment of deposit
We start preparation for shipping the car after we confirm your deposit. Once we are ready to ship your car, we charge you full payment. (Deposit amount is deducted. )
(

※

We charge you for additional expense separetely if needed.)
Please make a payment by the due date indicated on the invoice.
If we can't confirm your payment within the due date, we cancel the transaction.


※

The deposit will be a cancelation fee. Non refundable.
Complaints after concluded Sales contract
The used cars we are dealing are all sold as-is.
We can't accept any claims once we made a sales contract. ( Claims like car defects, missing description on our report and so on.)
Be sure to check the actual condition of the car before purchasing.
(

※

Please make an appointment, If you would like to see the car.)
For individual customers
The price for used cars
Basically, we deal with dealers ONLY. Please contact the authorized dealer you picked for dealing with us on behalf of you.
( Please pick the dealer can provide export /import service from Japan to your country. )
Deposit
We only accept payments from dealers.
Please make a payment via dealer you picked.
◎The reason why we deal only with dealers are…
We and dealers are both professionals of cars, so we do not do any maintenance on the cars we are selling.
Basically, handling over in its present state, our reports cannot cover everything.
Please use our detailed reports as just a reference and never fail to check the cars and judge their actual state by the dealer you picked on behalf of you.
As for the repair records, please judge if the car has repair record or not by inspecting the car on site through your dealer.
We report every defects that each car has but there are no guarantees, no warranties and no means of legal recourse. Especially for engine and drivetrain.
We do not accept any complaints/change of the order/ cancelation /return, once you place an order since we and dealers are both professional of cars.
Car Storage Service & Options
◎Following storage fee is charged after the agreement is settled.
First month :
FREE

 / Second month:5,000 JPY

※If you keep storing the car in our warehouse more than 2 months after the agreement is settled, Plan A storage fee is charged automatically.
If you would like to store the car in our warehouse, following storage options are available.
Plan
Detail
Fee

A

Stored under open-air
20,000 JPY / month

B

Stored in warehouse
50,000 JPY / month

C

Stored in warehouse
+ registration in Japan
( You can drive your car )
Test drive by our mechanics and its video.
Report on defects
150,000 JPY / month
Remarks
 Idling your car once a month for about 15 minutes on all plans.
◎Other Options ( An additional fee will be charged. )
・Protect with car cover
・Regular inspection
・Oil replacement
・Consumable parts replacement ( Plug, Belt and Filter etc.)
・Test drive by our mechanics + Video of the test drive
◎Troubles during storaging your car
・Theft and Act of God
Trust Kikaku is not responsible for any damage or theft on your cars.
Storage insurance is also available with an additional fee.