The flood that Bu-ko experienced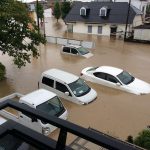 This is a photo of Bu-ko's house's garden before failure of Kinu River bank in Jyoso City several years ago.
To tell you the truth, Bu-ko's loving car, IS350 also sank in the flood water…
The brown dirty water kept coming, and the garden became like this in a short short time while Bu-ko was watching.
"Never thought that this is happen to me!" "Poor thing" " I can't  believe this!"
Car is an existence that sharing precious memories with…
And it has a value that money can't buy…
HP10 Purimela Autech Version
We bought this car from the customer from Tochigi Prefecture.
This customer also experienced same sadness and  decided to sell his/her car to us.
So, Trust Kikaku challenged to revive this car this time!
This car looks very happy to drive again!
We are extremely happy that our sincere wish could revive this car!