Trust Kikaku Original Shop Cards
Thank you for many inquiries from overseas!!
We would like you guys know more easily, so we made new shop cards with QR code of our website.(⋈◍>◡<◍)。✧♡
And we used our customer's car for these cards(∩˃o˂∩)♡
The cards are set on our office, so visit and get them at Trust Kikaku♥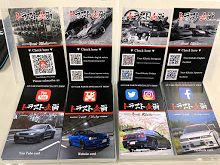 4 variety cards are here!!
Send Epic Photos of Your Car!!
We are going to make new calendar for 2021 by using your car's photo!!
Please send us cool pictures!!
Look forward to receive it soon!!